Selling and promoting your courses
With ScholarLMS' eCommerce features, you have all the required tools to promote and sell your courses easily. We understand that creating courses and selling them are two different ball games altogether and so today we will be focusing on 'selling' tools. This tutorial will include the following topics:
What will you learn in this section?
Payment gateways
Affiliates
Reports
Gift vouchers and coupon codes
Section 1: Payment Gateways
ScholarLMS' eCommerce offers various in-built payment methods. Once eCommerce is enabled, you will find that the system supports most of the popular payment gateways. Installing and editing a payment gateway is easy. Follow these steps for installing any particular payment method.
Step 1. Go to Store->Payment method from left navigation.
Step 2. Browse to Extension->Payments and you will find various payment methods listed there.
Step 3. Select the payment method you want to install by clicking install icon
. For example let's install PayPal Payments Standard payment method.
Step 4. Once installed, click the edit button on the right
.
Step 5. You will see the payment method settings page. Fill out the required details like email address, save the settings and you are done setting up your first payment method!
Section 2: Affiliates
ScholarLMS gives you the option to set up affiliate programs to promote additional traffic to your shop. Affiliates will receive a commission for each time they direct traffic or sales to your site.
Here is how you can add new affiliate, edit their settings, and approve/reject an affiliate. Go to Marketing->Affiliate section of the eCommerce admin for all these settings.
Step 1. Click on the Add new affiliate button that appears on the top right of the page
.
Step 2. Fill out all the basic and required details such as first name, last name, email etc under the first tab General Details.
Step 3. For payment related details such as commission % can be adjusted in the second tab Payment Details.
Section 3: Gift Vouchers and Coupons Codes
With the help of eCommerce, you can create gift vouchers and coupon codes for your customers. Let's explore them further.
1. Gift Vouchers: Gift vouchers can be individually sent to customers through their email by other customers from the store front. The customer receiving the gift certificate can use the code provided in the email at the shopping cart to deduct the gift voucher amount from the order total. Here is how you can create and send gift vouchers.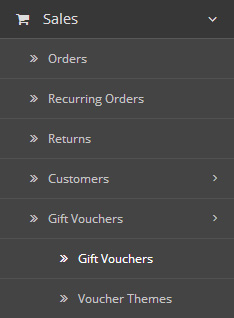 Step 1. Go to Sales->Gift Vouchers->Gift Vouchers.
Step 2. Click on add new voucher button appears at the right top of the page
.
Step 3. You will see a voucher page, fill out all the required details like Code, From name, From email, To email and message.
Step 4. Once you have added a voucher, you can send it by clicking on the send voucher button which appears at the top right
.
You can create your own gift voucher themes by going to Sales->Gift Vouchers->Voucher themes.
2. Coupon Codes: You can create and designate coupons to specific products or product categories by going to Marketing->Coupons. The Coupons page will display a list of all the coupons created in the administration.
Section 4: Reports
The eCommerce section supports Sales, Products, Customers, and Marketing reports.
Sales Report: The reports under Sales Reports can be accessed from Reports->Sales. Orders, taxes, shipping, returns, and coupon sales information can be tracked in list form.
Products Viewed report: The Products Viewed Report gives you an idea of what products are being viewed the most, or the least, in the store front. You can access this section under Reports->Products->Viewed in the administration side.
Products Purchased report: The Products Purchased Report can be found under Reports->Products->Purchased. The report will display all the products purchased from the store.
Customers report: The Customers Reports section can be accessed under Reports->Customers. These reports display specific information to track online customers, activities, orders made, reward points, and credits for each customer using the store.
Marketing report: The Marketing Reports can be accessed from Reports->Marketing. These reports display Marketing data, Affiliates commission, and Affiliate activities.